Cave of Forgotten Dreams
(2010)
Genres: Documentary, History
Christy and Ignatiy: 3D - What is the Use?
About Cave of Forgotten Dreams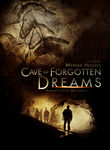 Celebrated documentary filmmaker Werner Herzog offers this unprecedented examination of Chauvet Cave, a cavern in southern France that contains the oldest human-painted images yet to be found on Earth. Besides presenting stunning cinematography of the exquisite paintings themselves, Herzog interviews experts who describe the context and reflect on the existential meaning of this artwork, which is some 30,000 years old.
Cast: Werner Herzog, Dominique Baffier, Jean Clottes, Jean-Michel Geneste, Carole Fritz, Gilles Tosello, Michel Philippe, Julien Monney, Charles Fathy
Director: Werner Herzog
Release Year: 2010
Length: 90 minutes
Rating: NR
Movie information delivered by Netflix