The Social Network
(2010)
Genres: Biography, Drama, History
Christy and Ignatiy: 3D - Gimmick or Here to Stay?
About The Social Network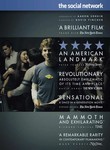 Director David Fincher's biographical drama chronicles the meteoric rise of Facebook CEO Mark Zuckerberg (Jesse Eisenberg) from Harvard sophomore to Internet superstar, examining his relationships with co-founder Eduardo Saverin (Andrew Garfield) and Napster founder Sean Parker (Justin Timberlake). Winning Golden Globes for Best Picture and Best Director, the film also racked up Oscar nods in the same categories and for lead actor Eisenberg.
Cast: Jesse Eisenberg, Andrew Garfield, Justin Timberlake, Armie Hammer, Max Minghella, Rooney Mara, Rashida Jones, Brenda Song, Malese Jow, Joseph Mazzello
Director: David Fincher
Release Year: 2010
Length: 120 minutes
Rating: PG-13
Movie information delivered by Netflix